15.7'' Sleeping Silicone Reborn Baby Dolls Eyes Closed Lifelike Baby Boy Dolls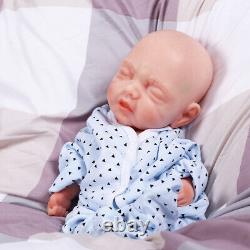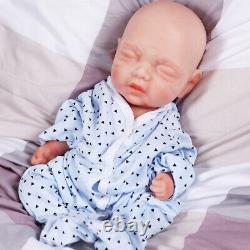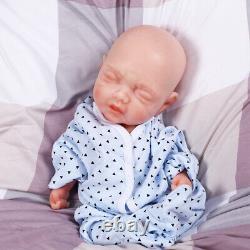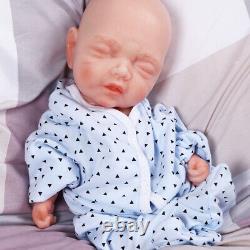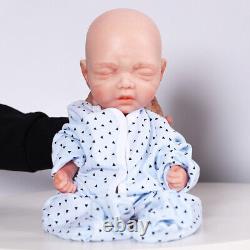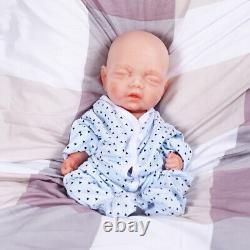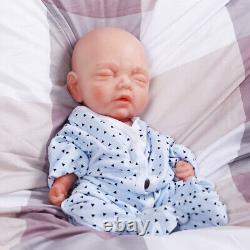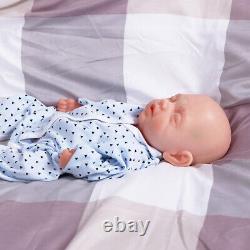 We pay all our attention to details of reborn dolls, the genial facial expressions, blushing, handmade hair, detailed creases, finger and toenails, lips, eyelashes, matte varnished eyebrows, beautiful well-fitting clothes, hand-painted fingers and toes, and firm stitching. Thank you for looking at my babies. CS-018A-2021 Weight: 3.9 lbs (1.8 kg) Height: 15.7 in (40 cm) Leg length: 5.9 in Arm length: 5.5 in Head circumference: 13.3 in Chest: 10.2 in Waist: 10.6 in Hips: 9.8 in Foot length: 1.9 in Gender: Boy Warm Tips: 1:The limbs of the doll cannot be separated. Because the baby doll is solid, it fits better with real human cubs. The material of the doll is ecoflex platinum silicone, which makes the skin become more softness and feel real feeling touch.
2: Please allow up to 0.4 to 0.5 inch errors gap in measurement. 3: This listing is unpainted bald for sale, you can DIY (paint it by yourself) please pay attention to these information when you make an order to us. 4: Not intended for kids under 3. 5:The difference between our doll is that the silicone material has a longer service life and is not easily deformed. NOTE The costume belongs to the shooting props and is not given as a gift. You need to dress up the baby yourself This product is suitable for tools used by Bao's parents to practice taking care of future babies. It is suitable for creative writers to color the doll with dexterous hands and make exquisite crafts. Suitable for children over six years old as a gift for children. Together with your partner, accompany your baby to grow up Again please note: These babies come with an open mouth and take a pacifier/bottle. But they are awesome silicone.
Due to the different display and different light, the picture may not reflect the actual color of the item. If you are looking for a silicone for a kid, please message me for options.
Platinum silicone babies are delicate and considered collectible art. FAQ: Q1: Is this reborn baby made of cloth or silicone?
A1: This reborn baby is made of Platinum Liquid Silicone, it is soft and Weighted Body for a "Real" Baby Feel. Q2: Can the Baby's arms and legs move back and forth?
A2: The baby's arms and legs can move back and forth, but it can not removed. Q3: Can this Baby take a pacifier in mouth? A3: YES, she can PACKAGE LISTS: 1: x1 Barry unpainted silicone baby doll. 4:x1 random baby clothes.
5:x1 Greeting guaranteed card.

---