Bluebonnet Babies REBORN Blonde Baby Girl Jocy by Olga Auer from LE kit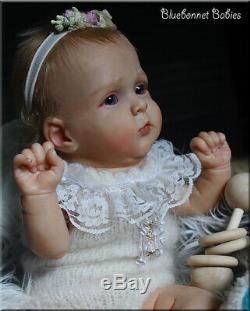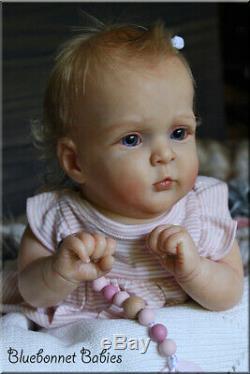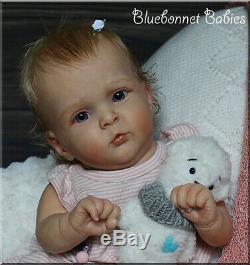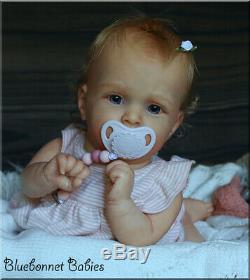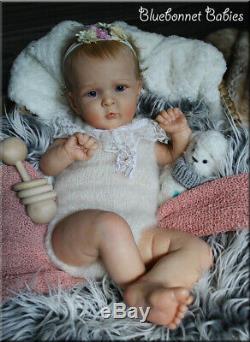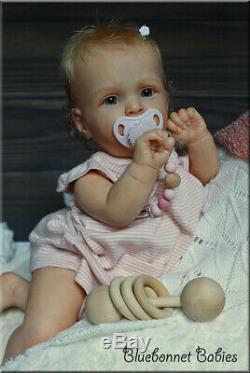 Original Sculpt Name:'''Jocy'' Limited Edition: #45 of 1000 by Olga Auer. Date of rebirth: August 15, 2019. Length: 20 inches w/ Legs bent at knee. I hope you enjoy the following photos of this adorable baby girl that I've reborn in my nursery. I took all the photos you see in a variety of natural lighting conditions to show how the baby's complexion changes in different light intensities of the day (just like real babies).
I don't use a camera flash, so the natural light changes the intensity of his skintone colors as the sun goes in and out of the clouds. This is why some pictures look''brighter or more brilliant'' than others. Sometimes refreshing your page will help with the completion of the download. This adorable baby girl started out the much awaited''Jocy'' Limited Edition kit by Olga Auer #45 of 1000 made world wide. Olga's sculpts are well known for their adorable expressions and Jocy's face is just he latest in adorable expressive kits available for us to reborn. I hope you enjoy my version of''Jocy'' and take a chance on becoming her new mommy. She is a joy to pose and dress up! You can change her name to whatever you'd like if you become her new mommy! Don't miss your chance to get this Limited Edition sculpt to add to your collection. Jenny is considered''newborn baby size'' at approximately 20 inches with her legs curled up slightly. If her legs were straight she would measure at least 21 inches so she is a good, natural newborn sized baby. She has FULL vinyl arms and FULL vin yl legs for ultimate clothing options and sleaveless shirts.
This baby will fit mostly in 0-3 month outfits with some newborn outfits also fitting as well (depending on brand). Shoe size is a size 0 depending on brand. She has a flesh colored, cloth-body is expertly made just for her that accommodates her frame that is NON-disc jointed but has her limbs still move freely for posing and floppy feel. This Genesis heat-set painting is not overdone so as to remain lifelike as possible for a healthy baby glow, and I gave this little one a newborn baby skin/complexion with slight mottling.
She is varnished to reduce shine and seal the paint. Each layer of Genesis paint is applied in such a way to give the skintone depth and realism. There is faint bluish undertones throughout in all the appropriate places. This is to mimic areas of thinner skin and veins, and they lie just below the skin surface so they look blended... Not simply''drawn on'' and do not overpower the baby's complexion with a bunch of''blue lines'' that look unsightly.
I have given Jenny micro-rooted silky-soft golden blonde mohair... Mixed ever so slightly with light blonde mohair to accentuate the hair with natural highlights.
Quality in both feel and look and is SUPER silky and feathery to the touch with straight on top and gentle curls in the very back for girly cowlicks, flips, etc. This very subtle mix of colors I rooted is meant to mimic growing little ones who still have their baby soft, fine hair on top and sides in a classic baby hairline complete with swirled crown. Her hairline was painted with gentle strokes to give it extra depth of color and realistic appearance of''peach fuzz''. Excellent, quality hair is a top priority in the creation of all my reborns and is one of the most important aspects of a reborn baby both in terms of realism and future value. I spare no expense in getting the best mohair on the market to use on my reborns.
It is secured with adhesive under the scalp and is easy to maintain with damp comb and left to dry naturally for the straight, non-frizzy look you see in the photos. I have weighted her limbs with glass beads as well as a heavier pouch of glass beads in her body cavity to balance her weight for lifelike feel. Polyfil makes up the rest of her body stuffing to make her as cuddly as possible when held in your arms.
Her head as also been weighted to simulate a newborn's head so it will need some support but she is able to sit without slumping over. I know tastes in weight and stuffing vary, so I always include an extra zip tie so you can adjust the weight as you prefer. Jenny has the lovely polyglass eyes in a natural medium blue/gray color. I also micro-rooted medium brown mohair upper eye-lid lashes one tiny hair at a time.
The baby brows are painted with tiny, wispy strokes and they do not overpower her face. Her adorable rosebud mouth are painted a subtle mauve color and glossed just a bit to look moist.
The nostrils were shaded to give them depth and realism. Her mouth DOES have a magnet to accommodate a modified pacifier (this can be removed on request). Will be going home with all the adorable outfits and hair accessories seen in these photos.
One outfit is gorgeous handmade''Alpaca'' knitted soft romper with lacy fringes and is very dainty and girly. Her other oufit a mauve stripe dress with built in onesie from Carters and looks so cute with her matching handmade beaded paci clip. I will include hair accessories that looks so cute on her... One is a handmade hairband and the other is her magnetic rosebud bow.
She even comes with a gender neutral tummy and chest plate for all those diaper poses and open shirts. Magnetic pacifier is included, this can be removed if desired! Does this sweet little one remind you of a special baby you've had or dreamed of having in your life?
If so, don't let her get away as she is a limited edition sculpt that is sure to sell out soon, so will not be repeated from me! This reborn baby was not made to be a child's play doll and is not intended for small children without supervision. All my babies and accessories come from a 100% smoke free environment. LAYAWAY is an option if you cannot pay for her all at once.
See below links for website and other artist info plus more pictures of my past reborn work. See my''Me'' page here for website links and''about the artist'' info! EXAMPLES of MY Past WORK Below. Assembled using the FreeForm Builder. The item "Bluebonnet Babies REBORN Blonde Baby Girl Jocy by Olga Auer from LE kit" is in sale since Monday, September 2, 2019. This item is in the category "Dolls & Bears\Dolls\Reborn\Reborn Dolls". The seller is "angeez*auctions" and is located in Alabama. This item can be shipped worldwide.
Brand//Artist: Reborn by Bluebonnet Babies
Featured Refinements: Reborn Doll
Doll Size: Approx 20 inches
Type: Baby
Features: Handmade
Ethnicity: Caucasian
Brand/Artist: Olga Auer
Doll Gender: Girl Doll

---