COSDOLL 18.5 Newborn Baby Doll 6.2lb Full Body Silicone Reborn Baby WithDrink-Wet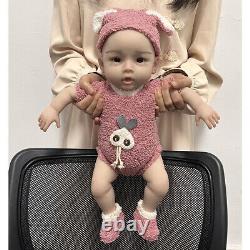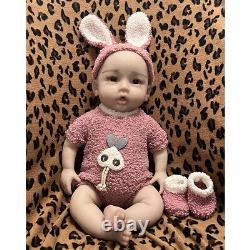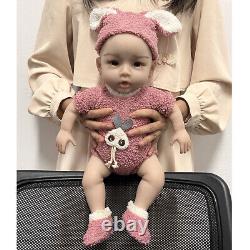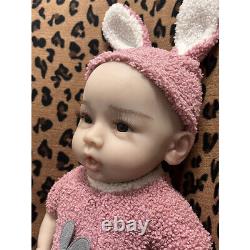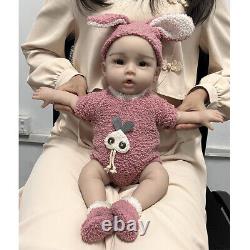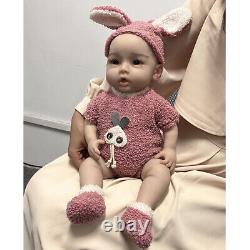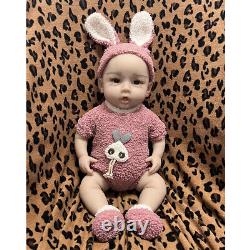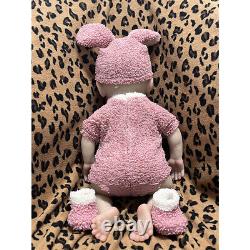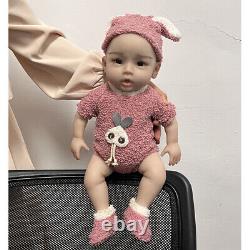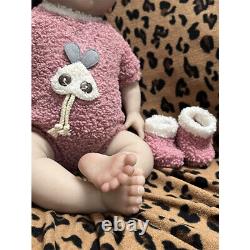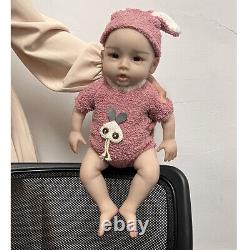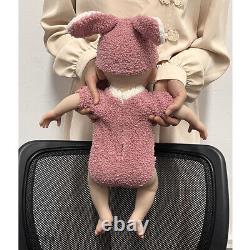 COSDOLL 18.5 Newborn Baby Doll 6.2lb Full Body Silicone Reborn Baby Dolls W/Drink-Wet. The latest customized model, the baby has a built-in metal skeleton, which can drink water normally. Almost same weight6.2lb and height (18.5in) like real baby. Fine makeup on skin appliance, you can even see veins on his temple. One piece design with skeleton design inside, you can move the arms and legs slightly b.
He can sit, half-lying or other posture with your adjustment. Brand:COSDOLL Material: food grade silicone Doll size: Full length18.5 inches / 47 cm Weight: 6.1 pounds / 2.8kg Head circumference: 14.5 inches / 37 cm Eyes:brown, can not be blink Eyelashes: It has lovely eyelash Eyebrows: planted eyebrows Mouth:mouth is open Nose: nostrils are open. Festival gifts, It is beautiful and so lifelike, Birthday gifts for lovers and babies. Play doll for babies and Grandma Accompany doll that will never let them feel alone. Add to your Collection of Reborn Babys. For training of Maternity Matron, Nursery, mother-to-be.
You can practice how to hold and take a baby with it. Props for shooting TV or movie.
Health workers for Alzheimer's, Autism & and many more with special needs with huge health calming benefits. Especially for those who like baby, you can find the special feeling of being a mother. Can accompany you in life.
1:The limbs of the doll cannot be separated. Because the baby doll is solid. The material of the doll is platinum silicone, which makes the skin become more softness and feel real feeling touch. 2: Not intended for babies age under 6. "Metal skeleton":The doll has a metal skeleton attached to it 5. "Skeleton/Drink-wet":The doll has a metal skeleton attached to the body. Which can Drink-Wet system, sit and stand.
Q1: Is this reborn baby made of cloth or silicone? A1: This reborn baby is made of platinum liquid silicone, soft and weighty body with built-in metal skeleton for a "real" baby feeling.
Will the paint come off if I put this baby in water? A2: Yes, it is hand drawn. But the paint did not peel off in normal temperature water Q3: Can the baby's arms and legs move back and forth? A3: The baby's arms and legs can move back and forth, but not away.
Q4: Can this baby have a pacifier? A4: Yes, the water version needs additional customization. NOTE: The doll costume is a product shooting prop, not a gift, you need to dress up the baby by yourself. 1: Please wash with clean water and dry before use.
3: Do not put the doll in the mouth. Please keep it out of reach of babies under 6 years old. 4: The product is integrally formed and does not need to be disassembled and assembled. 5: Product accessories: doll's clothes, feeding bottles and pacifiers are all used for dolls and cannot be used on real baby. 6: Please note again: these babies are not perfect, they do have small flaws and seams, but they are affordable and the best silicone dolls.
When cleaning the doll, please use warm water below 80°. If cleaning the doll seems necessary, you can do it with a damp washcloth.
Use it with a few drops of dish soap and wipe the body with it. Do it gently, so it doesn't damage the doll. Use a dry washcloth on the body when you're finished with the damp one.
This will make sure that no moisture remains on the doll. And finally to get the outfits on the doll to make it more realistic. Avoid placing the doll direct sunlight as it may cause the colors to fade over time. For storage, use coll, shaded places so no moisture or other damaging-agents can reach it. You can bathe the silicone doll just like taking care of a baby, and you can also apply talcum powder to the silicone doll and dress up in beautiful clothes to make the silicone doll more realistic and moving. If you feel that the doll is sticky and too shiny when you receive it, don't panic. You can take a bath and then put on talcum powder, and the problem will be solved! If you have service of free to sign, the Carrier probably leave your parcel on there. We stand behind every product we sell.
If you are dissatisfied for any reason, please donot be quick to leave negative/neutral feedback. If you feel delighted with this transation, Pls give us all 5-stars. We strive for 5-star service by providing high-quality goods and perfect service.
(Positive)feedback is simply what we seek for.

---