COSDOLL 18.5 Reborn Baby Dolls Can Drink Water&Pee Full Silicone Adorable Dolls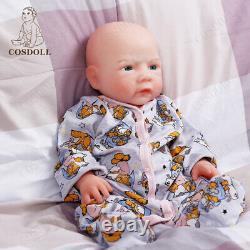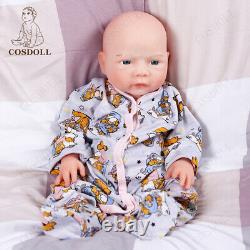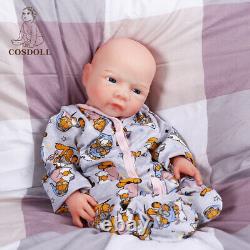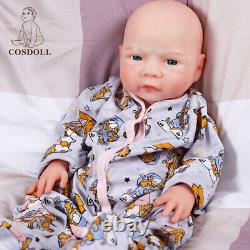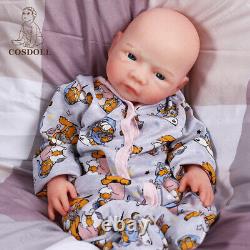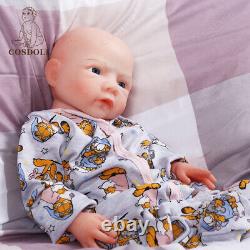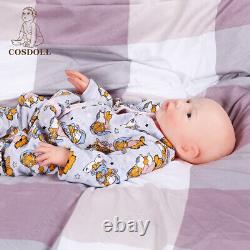 COSDOLL 18.5 Reborn Doll Twins Baby Platinum Silicone Adorable Newborn Baby Doll with Drink-Wet System. COSDOLL 18.5 Can Drink Water and Pee Baby Dolls Platinum Silicone Adorable Baby. Welcome to COSDOLL reborn baby doll kingdom!!!! We do not sell reborn dolls, we serve emotions!!
COSDOLL focus on providing high quality real lifelike dolls to people all around the world, our realistic reborn dolls including premiee dolls, infant dolls, baby dolls, toddler dolls and doll accessories etc. All of our doll artists have been worked in this field for more than 10 years. They endow love, warmth, companionship, happiness with us, we also want to deliver those priceless emotions to you and your beloved families. What COSDOLL created is not only a simple high qulity toy doll but also the guardian of the pure heart, the enabler of happy living.
According to the report says that more than 90% families with reborn baby doll to be an method of practice of how to carry, have a bath or change a diaper among in daddies or mommies before they give in a birth. Twins baby doll is designed and developed by COSDOLL. Twins baby doll is handmade by soft COSDOLL Silicone, perfectly capturing her happy expression, with an irresistible smile, and cleverly hand-painted every lifelike detail of her.
Her posture and weight make you feel like a real baby in your arms, and even exudes a fresh scent of baby powder, making her smell like she is holding a heavenly feeling. These babies are soft, smooth, squishy and can be bathed and powdered. Fantastic Gift for Your Beloved Partners/ Family/ Friends.
This is an upgraded version baby doll with Drink-Wet System, doll can drink water and pee normally. Item no:CS-013A-HS-2022 / CS-026A-HS-2022. Material: Platinum Silicone ecoflex material. Size: 18.5 in (47 cm).
Weight: 6.61 lb (3 kg). B/W/H: 12.20 in/13.38 in/13.77 in. Feet Length: 7.48 in. Arm Length: 7.87 in. Shoulder Width: 4.72 in. Head Circumference: 13.38 in. Neck Circumference: 7.87 in.
1:The baby doll is solid, the limbs of the doll cannot be separated. The material of the doll is ecoflex platinum silicone, which makes the skin become more softness and feel real feeling touch, it fits better with real human cubs. 2: Please allow up to 0.4 to 0.5 inch errors gap in measurement. This listing is painted bald for sale, please pay attention to these information when you make an order to us.
4: Not intended for babies age under 6. 5:The difference between our doll is that the silicone material has a longer service life and is not easily deformed. "Drink-wet":baby doll which can Drink-Wet system. Picture baby clothes are shooting props, you need to dress up the baby yourself. This product is suitable for tools used by Bao's parents to practice taking care of future babies.
It is suitable for creative writers to color the doll with dexterous hands and make exquisite crafts. Suitable for baby over six years old as a gift for baby. Together with your partner, accompany your baby to grow up. These babies can't take a pacifier, but Package contains a pacifier.
But they are awesome silicone. Due to the different display and different light, the picture may not reflect the actual color of the item.
If you are looking for a silicone reborn baby doll, please message me for options. Platinum silicone babies are delicate and considered collectible art.
1x Painted bald silicone baby doll. 1: Please wash with clean water and dry before use. 3: Do not put the doll in the mouth. Please keep it out of reach of babies under 6 years old. 4: The product is integrally formed and does not need to be disassembled and assembled.
5: Product accessories: doll's clothes, feeding bottles and pacifiers are all used for dolls and cannot be used on real baby. 6: Please note again: these babies are not perfect, they do have small flaws and seams, but they are affordable and the best silicone dolls.
When cleaning the doll, please use warm water below 80°. If cleaning the doll seems necessary, you can do it with a damp washcloth. Use it with a few drops of dish soap and wipe the body with it. Do it gently, so it doesn't damage the doll. Use a dry washcloth on the body when you're finished with the damp one.
This will make sure that no moisture remains on the doll. And finally to get the outfits on the doll to make it more realistic. Avoid placing the doll direct sunlight as it may cause the colors to fade over time. For storage, use coll, shaded places so no moisture or other damaging-agents can reach it. You can bathe the silicone doll just like taking care of a baby, and you can also apply talcum powder to the silicone doll and dress up in beautiful clothes to make the silicone doll more realistic and moving.
If you feel that the doll is sticky and too shiny when you receive it, don't panic. You can take a bath and then put on talcum powder, and the problem will be solved! If you have service of free to sign, the Carrier probably leave your parcel on there. We stand behind every product we sell. If you are dissatisfied for any reason, please donot be quick to leave negative/neutral feedback. If you feel delighted with this transation, Pls give us all 5-stars. We strive for 5-star service by providing high-quality goods and perfect service.
(Positive)feedback is simply what we seek for.

---