Cute 24 Realistic Reborn Baby Dolls Toddler Girl That Look Real Soft Silicone W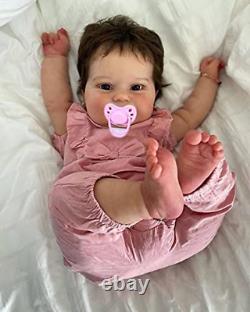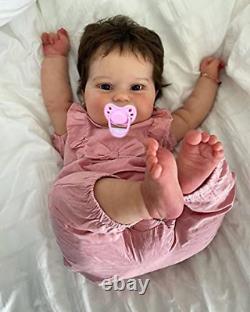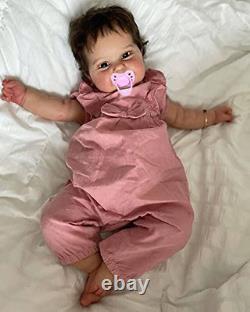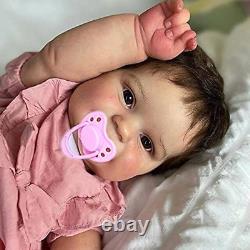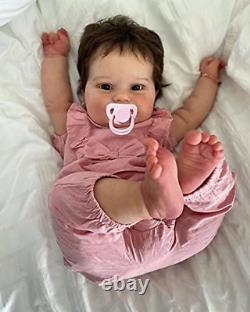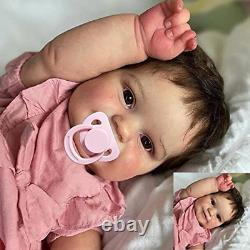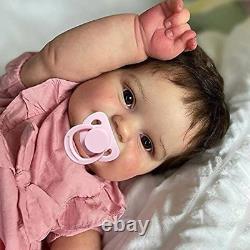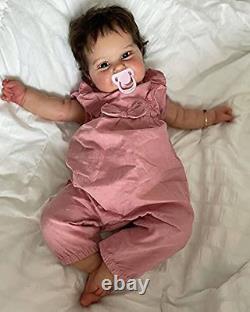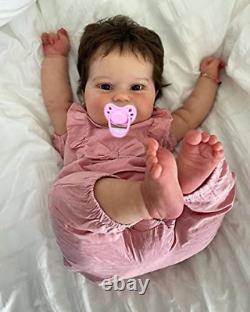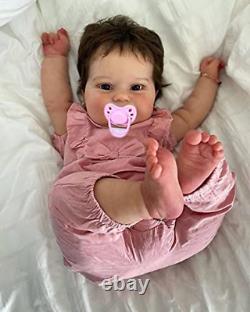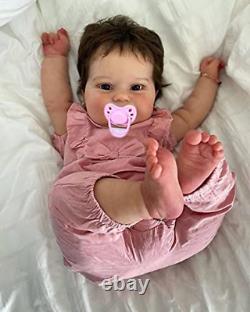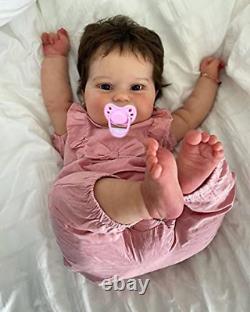 NEWBORN LOOKING - This cute realistic Baby doll's shoulder and body are cloth with internal filling PP cotton, full silicone arms, and full silicone legs, the body has no gender. The limbs are movable and poseable. Reborn baby doll is able to sit up and lie down easily on her own, but CANNOT stand, speak or be washed.
SIZE - 24inch/60cm from head to toe and weights approximately 3.5 pounds with a soft and real & comfortable touch of the silicone vinyl head, face and limbs, weighted body for a real baby feel and the kids can hand her to everywhere. DETAILS - The hair is micro-rooted fiber hair, very soft and lifelike, several strands at a time and then sealed on the inside with waterproof glue so the hair can be carefully washed and styled. The eyebrows are painted on and matte sealed. Fingernails and toenails are sealed with acrylic top coat and we have them little half-moons in a shell color. They have been varnished with Genesis Matte Varnish all over to prevent shine and her skin is slightly textured.
GREAT FOR - Festival gifts, birthday gifts, children play with toys, grandpa or grandma accompany doll, lovers and collectors collection, nursing doll etc. WHAT WILL INCLUDE IN PACKAGE - Each baby will come home with ONE outfits, a magnetic pacifier, a nursing bottle, Birth Certificate.
This cute and lovely baby looks like she is gorgeous and so sweet with her mouth open closely; she has beautiful brilliant blue eyes and is full of curiosity about the world. Her skin is delicate and textured, and her face is blushing a bit, as if her body is actually warm. Our baby skin texture is hand-painted to look extremely realistic, giving her/him a "real living skin" beautiful baby's complexion Her hair and eyelashes are woven from high-quality Synthetic hair. Her teeth is molded into her month.
You can take her on a picnic, read her bedtime stories, or hold her as you go to sleep. She's so pure and sweet. We adore her sweet expression, when you look at her you just want to scoop her up and give her cuddles! She fits into 0-3/3-6month sized baby clothing and is a lovely little girl SAFETY CERTIFICATION - Conforms or exceeds the safety requirements of ASTM F963 and EN71 for ages 3+, which is safe for your children.
Cloth body It's all about the softness! The babies' shoulders and body are made of high-quality cotton, and the interior is filled with PP cotton; the arms and legs are made of gentle touched vinyl, and the limbs are not detachable. These dolls have no gender. They can sit and lie down easily but can't stand or take a b.

---