Full Body Solid Platinum Silicone Big Baby Boy Ecoflex 20 Issac 3 Drinks/wets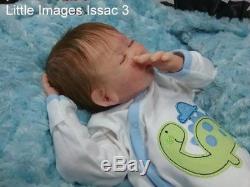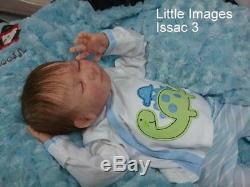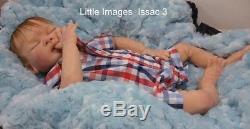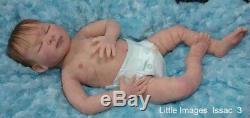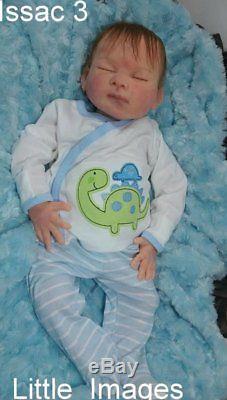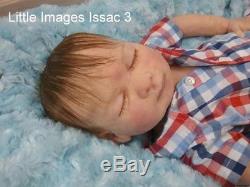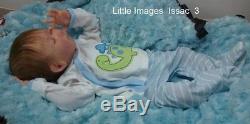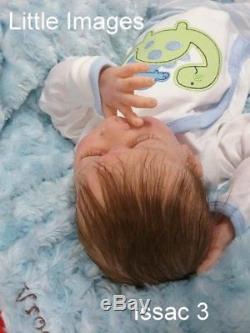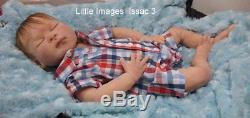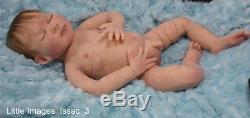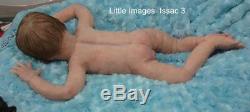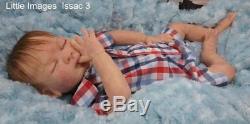 I WILL BE OUT OF TOWN FROM DEC 25 TO JAN 1. We are striving to make them as realistic as possible. He's not flawless and his little.
Imperfections just add to his uniqueness! Full body platinum Ecoflex 20 silicone sculpted by Donna Kohn. He was delivered from his mold at.
He can drink and wet I recommend. But you can use powdered baby formula mixed thin.
Then after he is fed cleanse him with a bottle of 1/4 distilled white. Vinegar and 3/4 distilled water.
PLEASE READ THE DESCRIPTION CAREFULLY HIS IMPERFECTIONS ARE LISTED. I sell retail and from my website listing could be. He will come home with lots of gifts! I sculpted him and my husband poured him in ECOflex 20 Platinum silicone with no additives which is soft. He was poured in a full body glove mold so there are no body seams. The only seam is where the head is attached with silpoxy. He can turn his head for posing. No worries when bathing him. His mouth is opened so he can take a full paci or bottle.
He can also drink and wet his diaper distilled water only. He also likes to suck his thumb in the right position. He has gums and a tongue with taste buds.
His hair is micro rooted with Delta Dawn Dark light med brown mohair and his lashes are lightly rooted. The hair is rooted in the silicone which grabs the hair and there is no way to seal it. So take care when styling and washing. Skin with all the veining and detail of real skin painted with the best silicone paints.
Mixed by me to make the most lifelike skin tones. Applied in many layers to achieve the Living skin.
Ith all the veins and tiny vessels with a light mottled look and has a. A beautiful pink healthy baby glow. Then matted so he is not sticky. Nails have been shaded, tipped and sealed for the fresh clipped look. His nostrils have been shaded and glazed to look moist.
The skin is very soft and smooth like a real babies. The pictures do not show all his detail. He is solid Platinum Silicone ECOflex 20. He will come home with.
All he is pictured in. A beautiful soft blanket of my choice. Diaper and paci and bottle. All other items are props. I also sell my babies retail and the listing could be ended at any time. He is an adorable cuddly baby boy up for adoption he is weighted to snuggle into his new Mommy's arms and his head needs to be supported. You packed her so protectively and beautifully. The blankets are so lovely as is her matching elephant toy. May God bless you and watch over you for your kindness and generosity. I appreciate all the extras you included - beautiful clothes shoes shampoo baby powder brush and comb all wrapped so lovely. The card you included is just wonderful. I have a number of dolls but none touch my heart like Georgia. She fits just right in my arms. I love them both beyond words. Sometimes I plan to dress them as twins. Thank you again and may God bless you in a powerful way. It was likchristmas time I swear! You are the sweetest person!
The way you packed and designed the whole box opening(don't want to spoil it for others) was amazing! Let me just say that you really made me feel like I was having a baby! Then last the sweetest part I got to open up and feel like little miracle baby boy! I don't know how you do it you are blessed to have such talent and be able to make a difference in a strangers life!
So I just wanted to say thank you! We love him very much! I found my husband even messing with him(which says a lot due to a loss of a baby brother when he was young) and my 4 year old and 6 year old held him hours upon hours last night tending to him! It was so sweet you have managed to bring our family closer!
That is just fine I would love to tell every visitor just how special this experience was! And you know that your doing something right when someone(me) makes an investment like this one(costly) and still I caught myself a couple times feeling like I was getting totally spoiled and how wonderful it was to finally have an experience when purchasing where finally I was 100 percent satisfied with the product and the sale of product! Hi Donna, I just received baby Jessica today safe and sound, she is stunningly beautiful to say the least!
This is the first reborn silicone baby I've ever bought or seen up close, I didn't think it was possible to make a doll so real! When I unpacked her, thought I was holding a real live baby, her skin is so unbelievably soft and amazingly realistic in every way! Your very generous with all the clothing & accessories you sent with her, thank you! Her outfit looks so cute and colorful, my wife will adore Jessica, she doesn't have any silicone type dolls so this is a very special gift. I know she won't be able to put her down!
You are a very talented artist, we really appreciate your great work! All the best to you and God Bless! ABSOLUTELY YOU HAVE MY PERMISSION TO USE ANY OF MY QUOTES ON YOUR LISTINGS!
WE JUST GOT BACK AND SIERRA PICKED OUT AROUND ONE HUNDRED DOLLARS WORTH OF NEW CLOTHES FOR KEVIN! HERE IS THE THING OF IT IN TARGET. WE AMAZED FOUR DIFFERENT PEOPLE. A LADY WHO WORKED THERE PUTTING AWAY CLOTHES WAS ASTOUNDED. THAT KEVIN WAS A DOLL! BUT PRICELESS WAS THIS BLACK LADY IN LINE WHOSE EXPRESSION WHEN WE TOLD HER THE TRUTH ABOUT KEVIN WOULD HAVE GOTTEN FIVE HUNDRED MILLION YOUTUBE HITS! ANOTHER BLACK WOMAN IN ANOTHER LINE HAD TO TOUCH KEVIN BECAUSE SHE COULDN'T SEEM TO BELIEVE IT. TO PUT IT MILDLY KEVIN OLANO WAS A HUGE HIT!
HE HAD A GREAT TIME AND NOW SIERRA PUT HIM IN A DEEP BLUE NEW ONESIE. THIS SHADE OF BLUE IS HIS COLOR! Little Fern arrived safely today and is absolutely adorable and gorgeous!
When I was unpacking all her lovely clothes and adccessories I felt as if I was actually expecting a baby! Thank you so much for everything - I have other reborns but have never received as much or as many lovely items with them as you sent with Baby Fern. We have had a cuddle and she is so realistic to hold and is so beautiful and cute.
I have never seen a silicone baby like it - you are so talented and have such a gift. I have worked with clay in the past, although I preferred to make mosaics rather than figures, so I appreciate all the love and care you put into this spectacular little baby. Rest assured she will be well cared for and adored. She is truly a little miracle and a blessing.
Thank you so much, she will bring me so much pleasure, I love her. Dear texasbanditcat, Donna, I just received Lola and she took my breath away!!! She is more stunning in person if that is possible!!!
She is the most beautiful reborn I own!!! Thank you so much for this amazing doll!
I can't stop looking at her. I left feedback, I wish I could have said more about our babies and you! I really can't thank you enough!
I can't believe how real he is, we can not put him down, he is so perfect. The detail he has is unbelievable and our little girl. Soon I have to get a little girl the same size as graham, we went to the store today and 2 people took his picture to show people, I wish I would have had your business card with me but I was able to tell them donna's darlings and I put your business cards in my purse for our next trip to the store cause I know people will ask lol.
No one beleived he was a doll, a guy asked how old he was and i told him, he was a doll the guy said okay, walked back up and asked again really how old is he? I told him again he is a babydoll and the guy had to touch graham cause he still did not believe me, he took serveral pictures to show his wife and daughter. The two cashiers both had to hold him and took his picture, we got stopped by almost every person who walked by if they didnt stop the starred lol Thank you again Donna, you did an amazing job, words can not tell you who happy we are with our babies!! You are welcome to put this on your website as feedback, since I was not able to write as much as I would have liked to..
Hi Donna, I have received Victoria and cannot believe how big she is and how beautiful You sure know yourbusiness in dolls and clothing. The blanket is just gorgeous and her outfit. She is in her baby pram now having a long sleep after her long journey. Thank you so much for making these beauties for us still in our childhood ladies, we really appreciate you, Jenny , hugs and kisses. I would have never wanted to miss having this little girl. You have outdone yourself and everyone else!! I keep expecting her to speak to me. She is so beautiful and so REAL!! I just can't put her down!
Thank you so sharing her with me. And thank you for reborning dolls. I look for you everytime I turn on the computer.
David is so adorable and his face is remarkable. The detail and craftmanship is amazing.
God has blessed you with a remarkable talent. It's been a pleasure doing business with you. Thank you so much, Dawn. My babies are OOAK I can never create another just like this one so if she captures your heart do not let her get away. I have been featured in All about Women magazine.
I study babies and collect pictures and try to make each of my babies with the most realistic detail that I can. No two of my babies are alike I also weight my babies so they feel like holding a live baby in your arms they snuggle up to you.
Creating these little joy's is truly a labor of love. I donate much of my proceeds to help children St.
Judes, make-a-wish, Hope Pregnancy Crisis Center and NRTL just to mention a few. It takes many hours to produce a beautiful baby and as most reborner's know we make very little in labor.
So look at these little darlings and enjoy them and if one special one captures your heart adopt your own little darling God's Blessings to all Donna master reborn artist My babies are made with as much love and care as any reborn that is up for sale I use only the safest and best materials that I can get. Please check my feedback and read what many of the new Mommy's has to say about my little Darlings. God's Blessings to all. The glass beads I use do not have any dust only crushed glass beads are dusty and pose a health hazard. The item "FULL BODY SOLID PLATINUM SILICONE BIG BABY BOY ECOFLEX 20 ISSAC 3 DRINKS/WETS" is in sale since Saturday, July 21, 2018.
This item is in the category "Dolls & Bears\Dolls\Reborn\Reborn Dolls". The seller is "texasbanditcat" and is located in Winter Garden, Florida.
This item can be shipped worldwide.
Country/Region of Manufacture: United States
Material: Ecoflex 20 platinum silicone
Doll Size: 21 in.
Type: Baby
Features: Artist Made
Brand/Artist: Donna's Darlings
Doll Gender: Boy Doll

---