ICradle Reborn Baby Dolls 28inch Realistic Silicone Vinyl Toddler Vinyl Lifel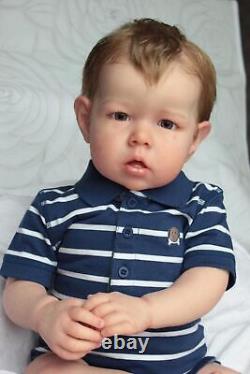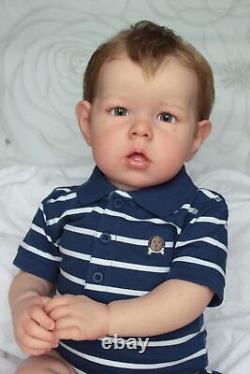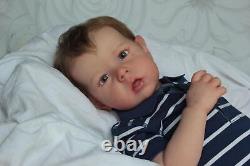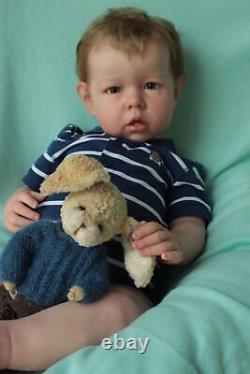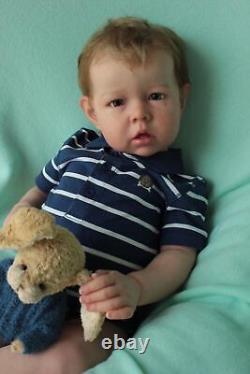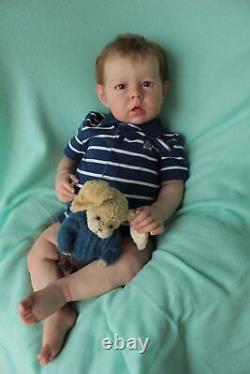 ICradle Reborn Baby Dolls 28inch Realistic Silicone Vinyl Toddler Vinyl Lifelike Newborn Babies Toys for Kids Birthday Gift for Age3+. Color: 28inch Liam Blue Outfit Brand: iCradle MPN: reborn baby dolls UPC: Does not apply EAN: Does not apply. Product Dimensions: 5 x 3 x 19 inches. Item Weight: 4.3 pounds. LIFELIKE REAL BABY DOLLS - Reborn baby dolls 28inches newborn lifelike soft silicone baby dolls, around 4.2pounds for a real life baby feel. REALISTIC DOLL MATERIAL - The Head, full limbs are made of high quality silicone vinyl, cloth body can######x27;t washable. Soft and lifelike, the boy doll can have bath or shower. You can take off the clothes to wash the dress, The doll is totally poseable, head and limbs can be moved around freely. CUTE BOY DOLL - This reborn baby doll is designed by famous artists, it is lovingly handcrafted from our unique soft vinyl for a finish that is as smooth as a babys face. You will enjoy a realistic warm embrace.
All handcraft, wrinkled little fingers, hand set eyes. The baby doll has hand painted details and eyebows. PERFECT GIFTS - Perfect for birthday present, christmas gift, preschool activity, home activity, roleplaying, nurturing play, suit for children, mothers, the older and all Age 3 who love.
Warm your heart and bring your family happy. BABY DOLL SET -You will receive:Baby Doll with outfit1 (as picture), Magnetic Pacifier1, Nurturing Bottle1, Diaper1, Birth Certificate1, Headband1.
###128512;Get Ready to Love Your Unique, Reborn Doll Our Promise to You: Realistic Reborns & Lifelike Living Dolls We "iCradle" care about quality, our customers, and our dolls "iCradle" believe every reborning is a special opportunity to create the most realistic, unique Reborn possible, to be treasured & loved by someone soon. The reborn toddlers you'll find in our shop are all of the highest quality vinyl, with painted colored hair and layered, detailed painting. The likeness of your Reborn can be modeled from a provided photograph so that your reborn infant is 100% special to you. When you hold one of our Reborns in your arms, you will understand why thousands of these unique, highly collectable dolls have been adopted all over the world-treasured by collectors, mothers, daughters, and artists alike. ###127800;Baby's identification Size: approx 28inch / 70cm from head to toe.
Gentle: Boy with no private part Material: silicone vinyl and cloth body Eyes:Eyes are beautiful, can not blink or close. Nail: 100% handmade nails Scent: A soft baby powder scent ###127800;Care Tips: Don't throw the baby doll away, please keep he/she clean & take care of she/he as your family member. Avoid using ink and markers near your doll cause they can be stained and permanently damaged. Reborn baby doll are committed to bring people a joyful and meaningful gift, which could accompany you growth.
With such hope, we made a quality exquisite dolls for you. Now this cute baby doll are here waiting for you to bring her to a lovely home!!!
We will supply you the VIP service.

---