IIORA PROTOTYPE artist 24 week Micro Preemie Reborn Doll Handmade LAYETTE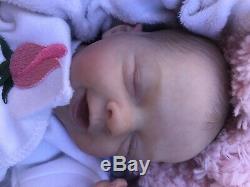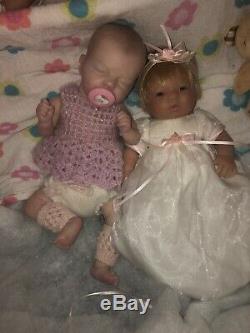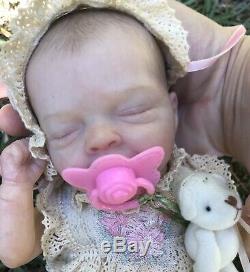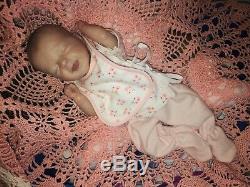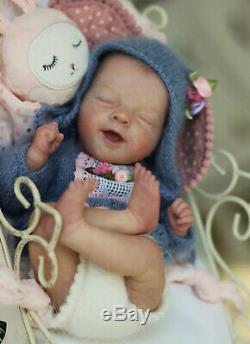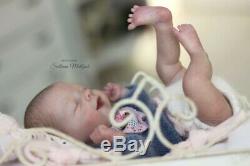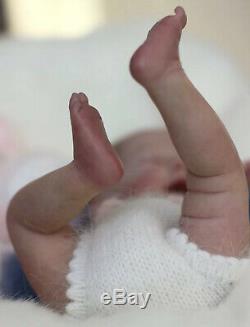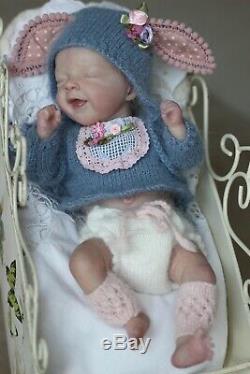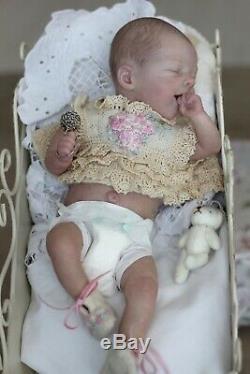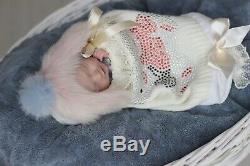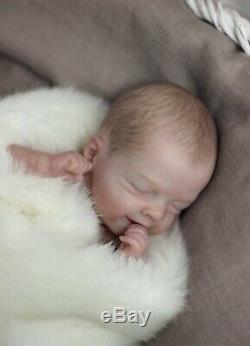 IIORA PROTOTYPE & Russian Master Artist OOAK Size of 24 week Premature Reborn Doll 12 girl + lifelike reborn babydoll. Simply breathtaking, artist sewn, CLOTHES & BABY BOOK Beautiful handmade items included! Meet little EVE, who was meticulously brought to life by my personal favorite reborn artist. Her work is always above and beyond any other work I have seen.
I have seen more reborns than I could count by so many artists that I cant remember all their names, but the artist who I bought this baby and 2 of my other babies from, is beyond anything else Ive seen, anywhere! Her name is SVETLANA MATLYAK. She is the awe inspiring mind who brought Little Eve to life! If you view my other listings, youll see one she named, Bianca (SOLE Tiffany Blick) who I also have for sale.
Bianca and Eve are both reborned by Svetlana Matlyak! I enjoy all types of reborn art. I appreciate ALL levels of this ever growing and changing craft.
Premature newborn Eve is the actual size of a real NICU 22, 23, 24, 25 weeks gestation micro preemie. She is right around 12-13 and her weight is appropriate for her size. All the finest materials are used with any Svetlana Matlyak baby , Eve is no exception to that rule.
Little EVE was created from the precious, Salia Kit, by one of the best sculptors out there, OLGA AUER! This kit was made from a super soft, quality vinyl.
It all began as a clay sculpt, hand made, by Olga. Then, the reborn artists do their part, to bring them to life!
The entire process is fascinating to me and I have thoroughly enjoyed meeting artists and sculptors via social media outlets. Svetlana Matlyak is such a phenomenal artist yall. Not only because of her ability to create a doll that really does, stand apart , from the rest, but also because she sends special items with her babies to make the experience that much more unique and special for her customers!
You will be receiving the FIRST & ONLY mini sculpt that SVETLANA has ever made! This little girl (or boy) took hour, after hour and many days & weeks for Svetlana to complete. She first maps out the features, then begins to paint layer, upon thin layer, of Genesis Heat Set Paints. Meaning, after each layer, the dolls is then heated to lock the paint into place. This process takes some serious time!
A lot of times, those fine little details can get lost in these tiny kits. Ive also seen many whose up close details, like shading between itty bitty toes and fingers, look clumpy and messy. I dont know why its that way with some All I know for sure is, baby Eve does NOT have those issues, nor is she missing the details we all want on every reborn. Micro rooted soft eye lashes.
Blueing in areas where it would be seen on real babies. Sweetly painted, natural color lips, tongue and visible gums too! Her cheeks are slightly rosy and she has light blushing in other areas too. Shading is neatly executed, as I mentioned before.
Magnet for a pacifier was added to her, so please be aware that there can be a danger when these magnets are near pace makers and similar electronics. Her little open mouth smile, says everything about what this little angel is dreaming of! Little fingers and toes are detailed. She was given the newborn type skin pattern. Her hair was first mapped out by Svetlana and then drawn on and sealed with a heat set varnish to lock it in place. She will be coming home to her new mommy or daddy with. One small hardback memory photo baby keepsake book, this little book was put together with love and care, by her artist. Without going into too much detail and spoiling the fun, Ill say this- youll get some photographs, her Certificate of Authenticity or COA from Olga Auer inside it. The BLUE layette set shown in the photos and. The light YELLOW set plus.
The tiny matching yellow BOOTIES (baby shoes). And the blue (long bunny ears lined with pink fabric) BABY HAT or CAP. The cream colored SLEEP SNUGGLE SACK that features the shiny snowmen on front and the hood that is trimmed in a super soft FAUX FUR around it.
Plus MORE SURPRISES, are all included! Each item with the bow before them. And completely one of a kind. Designed by her wonderfully gifted artist! You will never seen another doll, wearing these, or anything similar to them!
You can not find them in any store front or anywhere online. Each piece is as one of a kind, as Eve herself!
She will be coming home to you with everything Svetlana made for her and with the items I bought separately for this wee little bit! ADULT OWNED NEVER PLAYED WITH. NO RIPS STAINS TEARS MISSING PAINT OR ANY OTHER SERIOUS AND NOTICEABLE ISSUES THAT I COUKD FIND ON THIS BABY OR WITH HER EXTENSIVE LAYETTE SET & MEMORY BOOK!
That being said, this and ALL my used dolls are AS IS & not returnable or refundable. Anything I might miss isnt going to be something serious, Im not blind.
Ill provide real time photos and answer anything and everything you need from me though! I try to be as open as possible with you, if you want references from some of these folks who know me in the collector world. Pet friendly home however, the these dolls were meant to be lifelong heirlooms and therefor are kept away from pets and little hands. There could be a pet hair missed somewhere because they do travel on occasion.
T his artist has had many of her dolls chosen to be featured on YouTube! Check out my Other listing if owning one who has her own YouTube video chosen by and featured on a huge arts & crafts suppliers YouTube Channel interests you. Because my SOLE Tiffany sculpted by Natali Blick & reborned by Svetlana Matlyak also, is currently for sale here and cross posted.
T O VIEW MORE AMAZING WORK FROM THIS ARTIST, go to your tube search bar and type in these key words: Svetlana Matlyak reborn artist - I have actually created a playlist of ALL HER WORK , there on YouTube! Check out the playlist and leave her videos some love!
Feel free to say hi to me while there. I WILL BE HAPPY TO CONSIDER OFFERING A SHORT, LAYAWAY. If we do agree to payments , I will expect the same respect from you, that my artists expect of me. To be clear, all payments will be non refundable!
So dont start a plan unless youre positive! Any plans I changed my mind on, I never once requested a dime back from those artists that were kind enough to allow payments in the first place. Feel free to ask for one, but just be aware of the expectations and the rules right now, before messaging me. Check my other listings frequently and FOLLOW! Ill be adding more in the next few days.
Thank you all and God Bless. Keywords that have nothing to do with this sale from this point on. Helps collectors find their way to the doll of their dreams. 16 17 not silicon not an Ashton drake collectible AD A.
Leigh Lee lea Middleton paradise gallery galleries PG P. Used cheap expensive high end not boo boo toddler infant preschool child kids children not a toy great gift idea for Valentines Day Christmas Mothers Day birthday helps mothers like myself to cope with the reality and pain related to or of child loss depression miscarriage early or late term still birth preemie prema prematurely born NICU survivors who grew into strong wee ones helps with anxiety and other mental illness role play although I do not role play and no morning feeding diapering bedtime nighttime evening routines but you can if youd like some reborn mommies and daddies even nurse or breastfeed again not something that interests me personally but to each his or her own no judgement 20 21 22 23 24 25 26 27 28 29 30 you cant bathe a reborn doll grandmother grandfather granny gramps grandma gifting special unique artistic Not a silicone 11 not partial no drink and wet system no acrylic 10 paints were used not porcelain 5 not polymers 13 clay big 14 little tiny huge 9 foot feet 1 2 3 ping lau aa African American asian Indian Russian Ukraine Ukrainian Chinese Japanese tan light dark eyes awake asleep sleeping display only box opening unboxing gifts gift surprises surprise looks like a real baby not an alternative alt fairy fae faerie faeries fairies troll pretend not a mermaid bat dog cat kitten pup werepup warewolf werepup werecat angel dragon bjd spider dollie kawaii kawii asian crush no voice box or heartbeat no open nose nose is closed fingers toes dolly mommy mom momma papa pops not Tink Bonnie brown not Natali Blick or ping lau or Andrea arcello or Marita Maria Marie winters Lilly LuLu lily Loo loo Lou Lou lu lu Flynn Himstedt gadco ad oh Ashton drake monkies not alive not real not breathing no heartbeat mechanism or breath machine no voice box no pee no poop no bath baths showers water or bathing ever no pool spa lake boat or anything near water Marley marly shasta Ophelia Sue sue happy sad crying laughing tears shoes socks clothes long gown pajamas pj pjs onesie shirt shorts pants capris dress dresses lot clothing clothes not antique not retro not vintage not old or play skirt pets pet friend hobby style art artistic trade sale bjd kittens Lori pregnant box open opening free gifts. The item "IIORA PROTOTYPE artist 24 week Micro Preemie Reborn Doll Handmade LAYETTE" is in sale since Monday, February 10, 2020.
This item is in the category "Dolls & Bears\Dolls\Reborn\Reborn Dolls". The seller is "peachypatriot" and is located in Lawrenceville, Georgia. This item can be shipped worldwide.
Type: Preemie
Material: Vinyl
Features: Handmade

---