Miranda 19 6lbs Bountiful Baby Reborn Artist Grace Cranford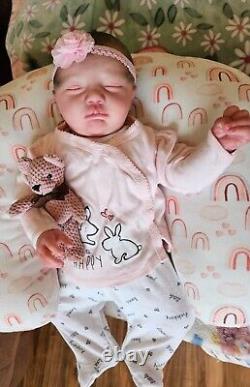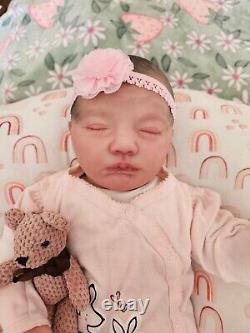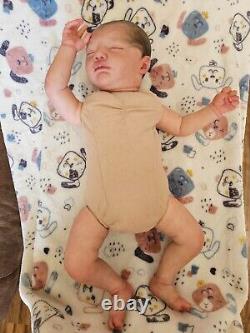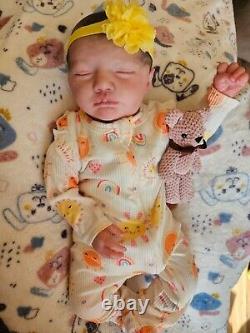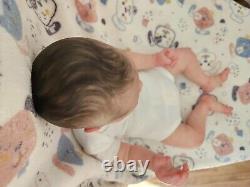 Miranda 19 approximately 6lbs, Bountiful Baby, Reborn Artist Grace Cranford. Nursery name is Grace Cranford.
Visit her nursery and scroll through her dolls until you see Miranda. She is a beautiful, snuggly, well weighted, little girl. The artist did a wonderful job on her mottling and veining. The pics were taken in front of a window and do not do this girl justice. I see no rub marks or flaws of any kind.
Please look closely at pics. Now, sadly, I have to reduce my collection. She will come with the clothes pictured. Not the blankets or boppy pictured.
Also included, pacifier and clip, another Jammie, summer romper, vintage dress(the bloomers are very loose but work great for display), socks, onesie, another headband, 2 extra diapers, and a receiving blanket. She will also have her COA and the original care sheet from the artist. I will gladly send a security photo. Box packing will be recorded on video to ensure that everything that is supposed to go into the box, goes. Please remember that she is a work of art, therefore, she is unique, the artists rendition.
Caution, she has a magnet for her pacifier, please be careful around those with pacemakers and other magnet sensitive items. Her head needs to be supported. Please treat her like a real baby. Never pick her up by her head, arms or legs. She is not a toy.
This doll is for adult collectors or responsible older children. Parents you know your kiddo best and if they are able to handle the responsibility of a reborn doll. I do have pets but they have not harmed this baby in any way.
She was on display in my living room most of the time that I have had her. But, for several weeks this baby has been wrapped in a blanket in my bedroom closet. Thank you for your interest in my baby. If you would like this baby as a boy please let me know so that I can send boy stuff instead, but items will be of my choosing.
The bear will not be sent with a boy though. The least that would be sent would be a onesie, jammie, outfit, socks, receiving blanket, pacifier and clip. I'm sorry if this seems harsh but unfortunately the scammers out there have made this necessary.

---