Pinky Reborn 20-inch Lifelike Baby Dolls Soft Realistic Silicone Newborn Girl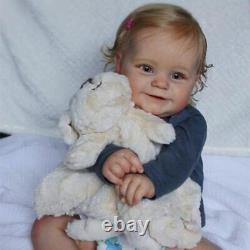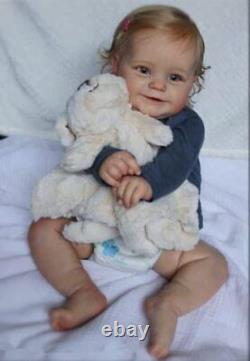 Pinky Reborn 20-inch Lifelike Baby Dolls, Soft Realistic Silicone Newborn Girl, Toddler Christmas Gift for Kids Age 3+. Doll size : Her size is 20inches from head to toe, weight is 2.6lbs, cloth whole body and pose her. Her soft vinyl limbs also makes her soft enough for baby to embrace.
Look, she is cute with a sweet smile that looks just like a real cute baby angel. Newborn-Baby Doll Materials:Reborn baby dolls have a realistic looking. Hand-applied eyelashes, handmade beautiful rooted black mohair. The arms and legs could be moved and poseablenot 360°.
She has blue vein across the top of the nose to simulate a real newborn baby. Realistic expressions will make your child like to play with her. Lifelike & Realistic-Baby Doll : This real life baby doll has a realistic looking. The chubby face, moist lip, realistic baby's skin, hand-drawn nails, redness of the nail bed, some nails life milky a half of moon shape, extremely realistic, newborn lifelike from the delicate face down to the tiny feet.
The skin of the doll is the most unique place of the lifelike baby doll to make it look more realistic. Collector's and Mum Best Choice : A reborn doll isn't just any baby doll, it's a work of art. Silicone baby dolls is the best choice for Doll collector's/hobbyists/Mum. A reborn artist ake it your perfect doll baby, because she/he is so real.
Package Include: Reborn baby doll x 1, Clothes as pictures x 1, Magnetic pacifier x 1, Feeding bottle x 1, Birth certificate x 1. Conforms to the safety requirements of ASTM F963 and EN71 for ages 3+. Welcome to the Pinky Reborn Family. She is from 2022 band sculpt-Maddie 20 Inch Pretty Reborn Baby Dolls Real Size Handmade Reborn Boy Babies Gift Sets Specifications she is 3.3lbs and 24inches long. Gender:Girl no private part Condition: 100% brand new reborn doll She has full limbs and wears 0-6month clothes.
She has hand painted eyelashes and hand rooted fiber hair. Nose:The nostrils are open, as if the baby doll is breathing. The lips of the baby doll seem warm and humid. Skin:The skin is the most unique place this doll, designers will spend a lot of time to baby's skin looks more realistic multi-layer manufacturing processes. Color after special treatment, so it will not fade.
Nails:The nails of the baby doll paint as if the milky half an moon shape, very delicate. She was brought to life with many layers of genesis heat set paints and sealed with a varnish to help protect her paint She comes home with lots of goodies!!
1Birth of certificate Caring Tips Please note that comb doll hair gentle with metal comb, and wash hair with synthetic hair care solution. Do not draw on the poseable reborn toddler doll face. To preserve the fresh appearance and bright colors of your doll, it is best to keep the doll out of direct sunlight and to dust it regularly, especially inside the folds of the costume. When you remove or dress for the sleeping reborn doll, please take care of it, cause any tough gestures may result in limbs or hair detaching and could permanently damage the doll. When dressing your doll in new clothes, be sure to pre-wash them to avoid colors and dyes from transferring onto your doll's vinyl parts.

---