ROSHUAN Smiling Reborn Baby Dolls Boy Harper with Mouth Open 20 Inch Real Lif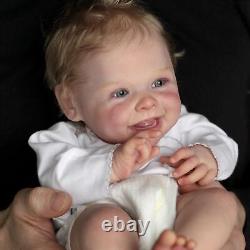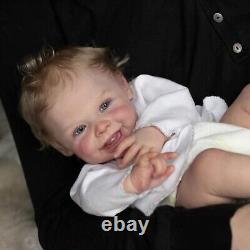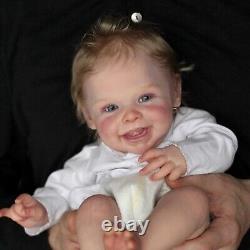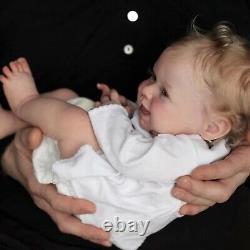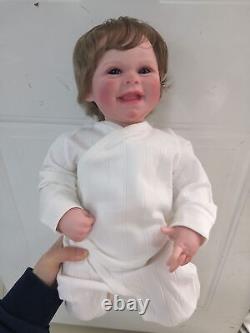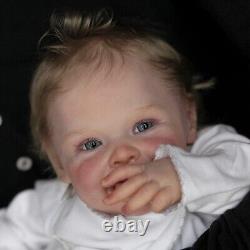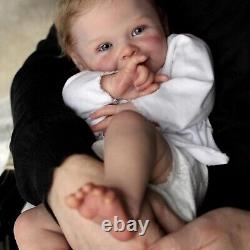 ROSHUAN Smiling Reborn Baby Dolls Boy Harper with Mouth Open 20 Inch Real Life Baby Dolls Rooted Hair Silicone Vinyl Weighted Realistic Newborn Baby Doll That Look Real+Accessories. Color: White Brand: ROSHUAN MPN: Realistic baby dolls UPC: Does not apply EAN: Does not apply. Product Dimensions: 14 x 4 x 3 inches.
Item Weight: 2.77 pounds. Item model number: Realistic baby dolls. Lifelike Reborn Baby Dolls [Specifications]: Our real life baby dolls are cute and adorable with life size 20 inches for kid baby toddler age 3 +. Also our life like baby dolls have a natural expression and soft skin which simulate like a truly baby. And Our weighted baby dolls are suitable for 03 newborn preemie baby clothes. You can take this sweet reborn doll home with 5 other baby accessories, clothing, diaper, pacifier, feeding bottle and birth certificate. Realistic Baby Dolls [Material]: Our real looking baby dolls are made of high quality vinly full limbs and cotton cloth body, highly simulate a real baby, from skin to vessels, hair to eyelashes, expressions to actions, showing the realistic baby to us. Our baby reborn dolls are poseable, along with hand-rooted hair and open eyes. Real Baby Dolls [Design]: Our baby born doll is aimed at kids, girls, boys, even youngster and elders. Our soft body baby doll is designed to simulate a real baby character, give our kids and family great comfort and company, they are especially suitable for Doll Collections, Birthday Gift, Christmas Gift, Role Playing, Relieve Alzheimer######x27;s disease, Relieve depression, Relieves post-traumatic stress disorder, Overcome trauma and Embrace therapy. Newborn Baby Dolls [Effection]: Our my sweet love baby doll is specially made for comforting kids emotions and feelings, healing their hearts and spirits, gaining their confidence and bravity in life, and accompanying and playing with us forever.
Our bebe reborn can also helps people in dilemma who once can not get out of the haze return to reality, help us come back to the new life and promoto the relasionship between us. Life Size Dolls [Sent As a Gift]: Our lifelike baby doll is always welcomed as a gift or a collection toy for our family and friends during some important occasions, birthday, christmas, festival, children######x27;s day, happy new year etc.

---