Sleeping Reborn Baby Dolls Lifelike Silicone Baby Realistic Newborn Baby Doll 20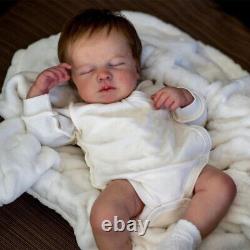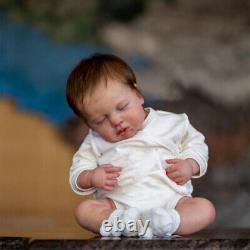 Condition: 100% Brand New 2. Material: Head and limbs are soft silicone vinyl, body are cotton, feel like a real baby when you touch her and hold her. Conforms to the safety requirements of ASTM F963 and EN71for ages 3+ 3. Dimension: approx 20 inch (50cm) 4. Eyelashes: Hand rooted soft dark brown Mohair with a very fine needle and sealed.
Eyebrows: completly hand-drawn up, so eyebrows have to be treated carefully, do not force to wipe them. Mouth: the lips seems to be a real baby's lips, tender, soft, warm and humid, you can not help but want to kiss the baby doll. It will come with a pacifier to fit the mouth. Head: the head simulation of reborn doll is a real baby size, very cute Skin: The skin is the most unique place of this doll, designers will spend a lot of time to baby's skin so that the skin will look more realistic multi-layer manufacturing processes. Color after special treatment, will not fade. Some babies have a little pink blush face.
Painted and baked color, High discoloration resistance; 3. No Toxic and unpleasant scent, Totally safe for kids to playing with. Festival gifts, Birthday gifts for your beloved children/ partners/ family/ friends. Children and Grandma who is accompanied by the doll will never feel alone. For People of Alzheimer's, Autism and many more with special needs with huge health calming benefits.
Collection by reborn baby dolls collectors and hobbyists. For training of Maternity Matron, Nursery, Mother-to-be. Props for films, theaters or TV documentaries. Reborn Doll x 1 Doll Clothes x 1 Birth Certificate x 1 Pacifier x 1 Bottle x 1.

---