TNGUN Full Body Silicone PROTOTYPE NOVA sculpted by Lilianne Breedveld GIRL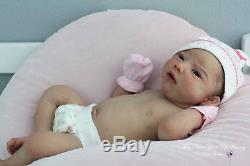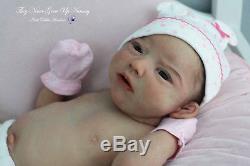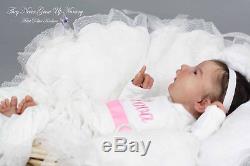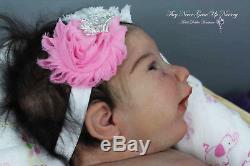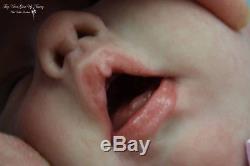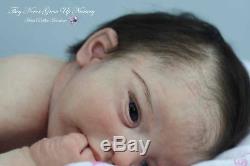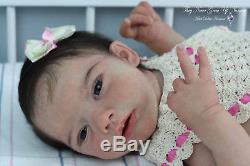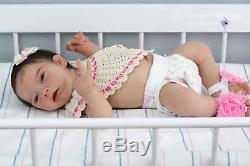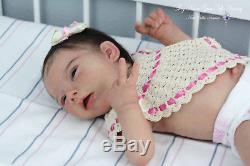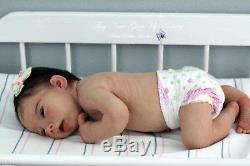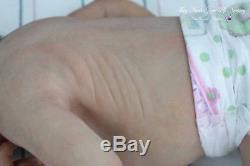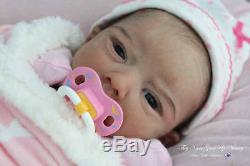 Full body silicone Nova prototype #1/1 Sculpted by Lilianne Breedveld in the Netherlands, poured by Claire Taylor in the United States With great honor, Nova has been brought to life by me, Debbie Henshaw, of They Never Grow Up Nursery in the United States Anatomically correct Ecoflex 20, poured in one piece (no seams) with a ball jointed head and armatures in her elbows Newborn blue German glass eyes Meticulously and directionally rooted hair, brows and lashes with premium They Never Grow Up Nursery Super Kid Angora mohair Exceptionally painted with Smooth-On Psycho platinum silicone and Silc Pig pigments in a special way to assure longevity Matted with Smooth-On Silicone and Silicone Art Materials Silicone Finishing Powder Open mouth can take a small full pacifier or bottle, please only use silicone nipples on silicone dolls Triple-sealed lips, mouth and nails Nova wears small newborn and large preemie-sized clothing, Newborn shoes and size 1 paper and fitted cloth diapers COA from Lilianne and Birth Certificate from my smoke free nursery. Nova's solid platinum silicone was carefully prepared to accept her paint and then the real "labor" began. Her tone was created with a special pallet created just for her. She has complete and full details including tiny capillaries, subtle and life-like veins, mottled blushing, beautiful undertones and true to life nails. She is matted using silicone matting products and her silicone is silky-smooth.
Nova's tone is exceptional and so very realistic! Nova has a thick head of very dark brownalmost black, soft, Angora mohair! I hand processed this Super Kid mohair right here at They Never Grow Up Nursery in acid dyes so that it will never bleed or fade.
I have meticulously rooted the hair deep into her head in a directional manner so that it will stay in her head and keep its growth pattern. I have learned which needle is the very best for rooting silicone so that the hair is "knotted" or "matted" on the inside of the head allowing it to stay in the head for years and years of brushing and snuggling. I have already brushed it many, many, many times during the rooting process. The back of her hair requires just a bit more time to style due to it's thickness but styling the side and front...
And even her cowlick swirl in the front is easy! All of her photos were taken with her hair completely dry. Adding to her realism, I hand rooted tiny lashes and exquisite brows; carefully sealing them to keep them in place. Nova is a complete armful of all things wonderful!
She feels SO REAL when holding her. Her body is poured into one, seamless piece of EcoFlex 20. Her body has no joints and no seams making her truly realistic.
Her head is attached with an amazing ball-jointed system that turns easily. She likes her fingers very much! A had asked that Claire Taylor add her wonderful armature to Nova's elbows, making her all the more fun to pose and dress. She is flexible, posable and adorable! Nova will arrive home with: The three piece pink ruffled dress and headband set The ribbon and flower sandals with matching head band these match all of her outfits! The personalized "Nova" gown with princess headband The beautiful thread crochet bib The three piece"Worth the Wait" long sleeve body suit, leg warmers and head band The adorable bear-ears sleep-hat and mittens Sealed faux milk bottle, whole nipple pacifier, beaded teething ring, and clip-on hair bow Extra diapers and a luxuriously soft blanket COA from Lilianne, a custom birth certificate from my nursery and this artists guarantee of workmanship All other items are property of They Never Grow Up Nursery and will not be traveling home with Nova. This is the only "Nova" sculpt that I will be offering. I have been creating lifelike reborn dolls from my heart to yours since February 2005. I've received many awards and the "Master Artist" title by my peers and the public and have had many articles in reborn magazines. Creating reborn dolls and teaching the art of reborning is my full time passion.
My goal with each baby is perfection. I "birth" my special bundles of joy nestled at the base of the peaceful Elkhorn mountains in Historic Baker City Oregon USA, where remnants of the Oregon Trail still reside. The influence of the families who endured and triumphed through trials of a very long journey lay the foundations of each and every baby I complete.
Just as their journey took months to accomplish, each They Never Grow Up Nursery (TNGUN) baby is a work of artning over several weeks, and sometimes months, to create. These exquisite dolls are limited in supply due to the dedicated time spent on each one.
Because of this lengthened time, only one of each sculpt will be reborned here at TNGUN. Please contact me for links to my website (where you can view more of my babies), my blog (heart warming picture stories and vinyl painting tutorials) and to my ArtFire shop where my premium Angora mohair is offered. Find me on Facebook at They Never Grow Up Nursery reborn dolls by Debbie Henshaw Feel free to ask any questions and do check out my 100% feedback score. Thanks again for your visit. I have recently made the move from "Private Listings" to open listings.
This is a wonderful and easy way for your to receive your baby now and for me to receive a paycheck now. It is a win/win opportunity! I warrant my workmanship for years to come and have happy customers all over the world. Please do not use them.
Your baby will be expertly packaged in all new material for the journey home. Please wait for the updated invoice to arrive to you before you pay. 2013 They Never Grow Up Nursery. Template created by Karen Valtin. The item "TNGUN Full Body Silicone PROTOTYPE NOVA sculpted by Lilianne Breedveld GIRL" is in sale since Tuesday, September 11, 2018.
This item is in the category "Dolls & Bears\Dolls\Reborn\Reborn Dolls". The seller is "redcar_99" and is located in Baker City, Oregon. This item can be shipped worldwide.
Bundle Listing: No
Country/Region of Manufacture: United States
Material: Silicone
Doll Size: 20 inches
Type: Baby
Features: Anatomically Correct
Brand/Artist: Lilianne Breedveld, Claire Taylor, Debbie Henshaw
Doll Gender: Girl Doll

---